Michael Dixon : Vinyl Record Artist
Michael Dixon Vinyl Record Artpieces
Michael Dixon lives and breathes vinyl recordings. He runs multiple successful vinyl companies – based on his longtime love of education, records, outsider art, and repurposing junk into handmade art pieces. He makes records by hand, one at a time, on 1940's record cutting lathes. He runs several record labels and travels the world teaching crowds at events and festivals the secret art of vinyl record production. Michael's vinyl mini-empire is delivering living documents that are deeply rooted in a rich history and treasured artifacts that travel well into the future.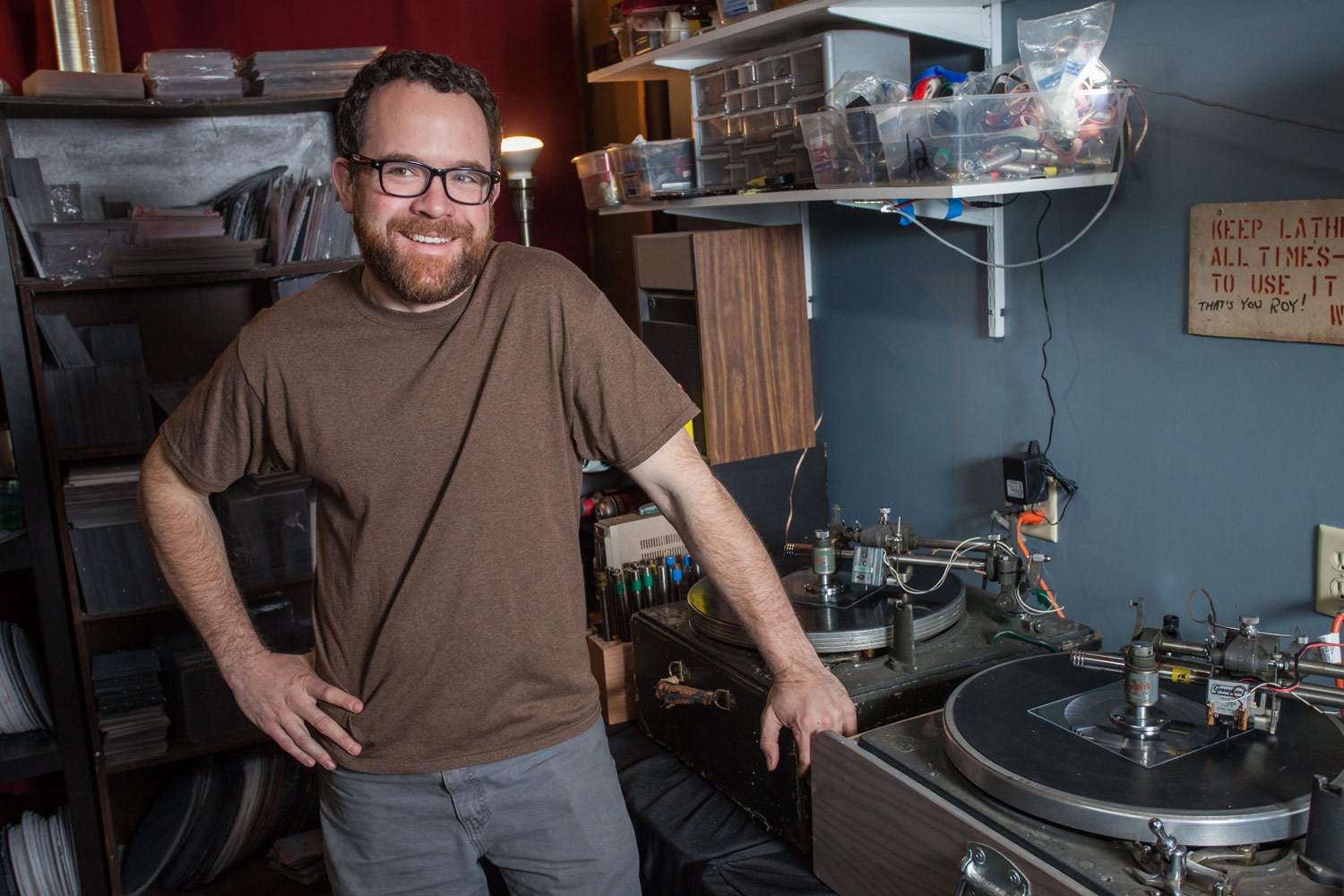 In a world of ubiquitous digital files and streaming audio the lathe cut record is a unique and precious artifact catering to the deep human desire for the tangible. The preciousness of an object that is not mass produced or effortlessly duplicated is becoming more recognized by folks looking for something beyond the hollow take-n-toss culture propagated by big business. All five of Michael's companies PIAPTK, Soild Gold, LatheCuts.com, MobileVinylRecorders.com and The Science Of Sound create these objects, with art and care - and they can play the music forever.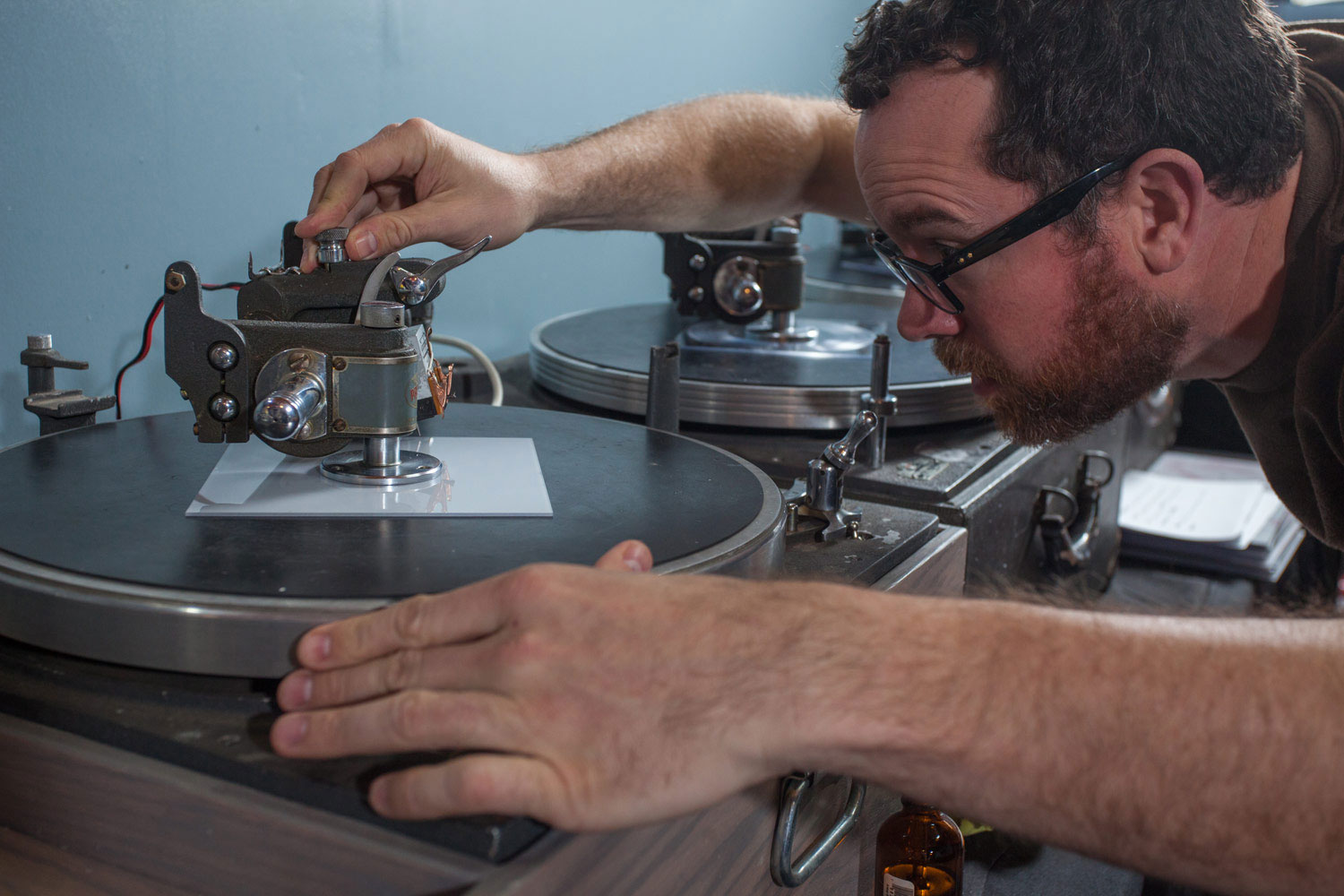 Dixon strives to make musical artifacts that require more than easy, passive consumption. Many releases have built-in, minor, inconveniences to playback or purchase that Dixon feels enriches the experience through intentionality and the investment of one of this generations most valuable resources: time. Whether it is a cassette tape that is bolted together between two records and packaged inside of a faux candy bag, or a 10" with a paint by numbers cover that requires the purchaser to send a photo of themselves holding their painted cover in order to receive the companion CD/Vinyl hybrid disc, Dixon feels that the more someone handles and interacts with an object, the more they will appreciate it.

Vintage Mono Record Lathe Repair, Restoration and Sales
Mike and his MVR Business partner, Kris Dorr, can repair, restore or train you on many different models of vintage mono machines. They also sell fully functional machines and parts.

www.RecordLatheParts.com
Selling embossing needles, blank records, lathe parts and accessories, etc for vintage machines.

www.LatheCutCamp.com
Three day training camp in beautiful Tucson, AZ for newbies, hobbyists, and people just interested in learning how record cutting works. Happens about twice a year.
Playing private press, obscure and deep cut country and honky-tonk. No tearjerkers or sad songs. Just upbeat barnburners and hillbilly hits from an alternate universe.

Since it's inception in 2006 PIAPTK has issued almost 200 releases - hand cut using vintage record lathes onto upcycled plexiglass, laserdiscs, picnic plates, cd-rs (playable on both turntable and standard CD player), mirrors, placemats, x-rays, and even 90% cacao chocolate. The label strives to make each release as unique and strange in format, packaging and concept.
The centerpiece of PIAPTK's obsession with making records that have never been made before are their "Eulerian Circles" series of playable, clear, multiple sided / multiple hole records with (seemingly) overlapping and concentric circles. (see above)
The label has released ultra-limited records by luminaries such as The Flaming Lips, Ariel Pink, Microphones, Jason Lytle, Casiotone For The Painfully Alone, Southerly, Little Wings, R. Stevie Moore and over 100 others. Many releases are carefully lathe cut (although some are pressed using traditional record pressing plants) and the packaging is always unique. The records often featuring handmade covers assembled from upcycled materials found at thrift stores and garage sales. The packaging regularly drives the record making process itself, and contributes to the overall concept behind each release. The artwork featured on PIAPTK releases are printed using silkscreening, letterpress, linoblock printing, unique paintings and drawings, and are often created by the recording artists themselves. These micro-runs seldom make it to release date before selling out via preorders. PIAPTK has received enthusiastic coverage from outlets such as Arizona Public Media (NPR), Pitchfork, Stereogum, Tiny Mixtapes, Brooklyn Vegan, Tucson Weekly, and NYC based 7 inches Blog.

The PIAPTK subsidiary Soild Gold is co-run and curated by Dimitri Manos (of Dr. Dog and Golden Boots). While PIAPTK's releases are focused on unique (and complicated) format and packaging, Soild Gold finds its' identity in consistency and a tightly defined minimalistic visual aesthetic. Every Soild Gold release is limited to 200 copies on gold colored vinyl and 100 tapes on gold colored cassettes. The packaging for the label always features a 1970's bootleg style record sleeve and a full color poster. The label issues these releases in the analog formats only - the music is too big to fit on a phone. Soild Gold has released (or has in production) albums for Grandaddy, Scott McMicken (Dr. Dog), Jeffrey Lewis, Eric Slick (Dr. Dog), and Floating Action.

Bands, musicians, or anyone wanting audio on a record can have their audio cut onto a playable plexiglass disc with Lathecuts.com. Founded in 2010, Mike has made records for over 600 artists to date. Available in picture discs, unique shapes, standard circles, and runs as low as 20, the ability to purchase tiny quantities are a major benefit for new artists and touring acts that cannot afford the minimum order of 500 required by most pressing plants. Lathecuts.com has cut records for tours, Kickstarter campaigns, art shows and even weddings. Lathecuts.com has made records for artists such as Godspeed You Black Emperor, Lou Barlow, Son Lux, Kishi Bashi, Sufjan Stevens, Thee Oh Sees, Joan of Arc, Yonatan Gat, and Surfer Blood.

A partnership with Seattleite Kris Dorr, Mobile Vinyl Recorders specialize in hand cutting records live in front of fascinated audiences since 2011. The duo have traveled the globe cutting vinyl on vintage Presto 6N lathes for acts such as The Flaming Lips, Justin Timberlake, The Isley Brothers, Beach House, The XX, Cut Copy, Of Montreal, Sebadoh, Half Japanese, WHY?, Lil Yachty, Wiz Kalifa, and many more. Mobile Vinyl Recorders have been employed to create their unique vinyl artifacts at parties and festivals such as Sundance Film Festival, Pitchfork Festival, Pitchfork Paris, Disqauire Day Paris, Coachella, Mardi Gras, The Super Bowl, and SXSW for clients such as Toyota, Converse, Soho House, American Express, Spotify, Sonos, Clif Bar, hitRecord.com (Joseph Gordon-Levitt), Fools Gold Records, Joyful Noise Records, LomaVista Records, The Numero Group, Burger Records and many more.

Utilizing his skills as a former high school vocational educator Mike travels to libraries, schools and after-school programs with a 1940s Presto 6N disc cutter in tow. His program features a fun audio-visual and kid friendly presentation covering the science of sound and the evolution of sound recording from early devices such as music boxes to the modern forms of lossless digital audio. Hands-on demonstrations include making a homemade record player using only a paper cup, pencil and cactus needle and, of course, the kids make their own record. Recording directly to vinyl through vintage microphones the kids are thrilled to hear their voices played back on the disc and the record is left with the school or library as a keepsake.